Oral Care On the Go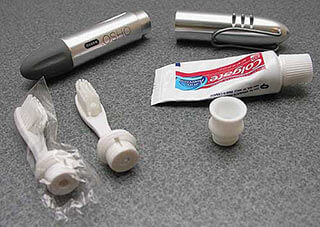 Oral care on the go, when out and about, travelling, and home remedies for bad breath
It is important to know basic guidelines in keeping your breath fresh as possible in general. These guidelines, remedies, and products will help you stop bad breath when you are out of the house at work, restaurants, school, or other places.
Have a travel oral care kit
If you are concerned about oral hygiene or fresh breath, it is very important that you brush after meals. If you go to school, work, or others activities outside of your home on a regular basis, then it is important to bring a toothbrush along. You can have a small travel size toothbrush and toothpaste inside your briefcase, purse, or bag. Here are things you will want to include in your travel oral hygenic kit in order of importance:
Toothbrush
Toothpaste
Tongue Scraper
Dental Floss
Mouthwash
Sugar free gum, mints, strips, etc.
You can either leave this kit at your work or bring it along with you each day. I find it is best to leave this kit in your desk/locker as you will always have it there and you do not need to carry it around with you all day. After you eat or if you feel your breath might be bad, go into the bathroom and floss, scrape your tongue, brush your teeth, and use mouthwash. If you are concerned that people who enter the bathroom will see you and think you are weird I will have you know that I have done this at work, school, and even at other peoples homes. Most of the time they don't even seem to notice, and if they think you are weird, who cares. When my coworkers saw me brushing my teeth in the bathroom they laughed at me at first in a joking manner, but the next week two of them were there brushing their teeth with me. It is good you are concerned about your oral hygiene, and people will appreciate your fresh breath.
Keep your mouth moist
It is important to keep your mouth moist throughout the day. A dry mouth causes bad breath fast. Here are ways to keep your mouth moist:
Water - Drinking water throughout the day helps keep your mouth moist, If you do not have access to a drinking fountain where you are, then be sure to bring a bottle of water with you. Also rinsing you mouth out with water is important to do after eating.

Oil of Oregano - Oil of oregano is known to be a potent antibacterial oil and it has a lot of antioxidants as well. It also aides in digestion as well. Adding 1 or 2 drops of it per liter in your water bottle and sipping it regularly will help keep your breath fresh and your mouth clean.

Herbal Tea - Drinking herbal tea such as green tea or peppermint tea will not only moisten your mouth but will also kill some of the germs that cause bad breath and inhibit their growth. Gargling warm herbal tea also helps get rid of bad breath.
Improvised Oral Care
Sometimes you will not have your travel oral care kit with you or you may find yourself in circumstances where it would not be appropriate to brush your teeth such as at a restaurant. At these times it is important to know various things you can do to keep your breath fresh. Below we will discuss common household products or items that are found in restaurants that you may use to ward of bad breath.
Salt - Salt is antibacterial because it causes cells to lose moisture. Salt is often found in packets at restaurants. Take a salt packet and mix it with warm water and gargle this warm salt water solution after eating. It leaves your mouth feeling fresher.

Baking Soda - Baking soda can be used as a substitute for toothpaste or it can be mixed with water and be used as a mouthwash. Baking soda stops bad breath by being a natural cleanser and it also lowers the pH level inside the mouth which creates an inhospitable environment for the odor causing bacteria. Works even better if used in combination with salt.

Order water or tea - When at restaurants, instead of ordering a soda or juice, you should order tea or just water. Not only is it cheaper and healthier, but it is also better for your breath.

Chew on this - Here are various herbs and foods that promote fresh breath:

Apples
Mint leaves
Cloves
Sunflower seeds
Cardamon
Ginger
Basil
Parsley
Sugar free gum, mints, breath strips

Lemon - Sucking on a lemon wedge or drinking lemon juice(not lemonade as it contains sugar) will help kill the bacteria in your mouth and remove odors from foods such as garlic or onions.

Rub your teeth - If you go a while without brushing your teeth, a layer of plaque will begin to coat your teeth and this is not good for your teeth or breath. What you can do is while in a bathroom take a paper towel, tissue, or if you are really desperate your shirt sleeve, and use this to rub each of your teeth. Rub the outer surface of your teeth gently and then the inside surface. After you are done rinse your mouth out with water. This should leave your teeth feeling smoother and cleaner.

Use a Spoon as an Improvised Tongue Scraper - The tongue (especially the rear portion) is home to many anaerobic bacteria that cause bad breath. You can use a spoon to scrape the particles off your tongue. To do this, make sure the bowl of the spoon is facing down and use it as you would a normal tongue scraper.

Suck on an Oral Probiotic Mint - Taking oral probiotics in mint form does two things: it increases saliva production in the mouth, and it also encourages healthy bacteria growth in the mouth. Both of these reduce bad breath. To learn more read our Oral Probiotics article.
Hopefully these tips will help you get rid of bad breath while at work, school, or out and about. If you have any other tips for oral care on the go for keeping your breath fresh then please post them below. Thanks!