How To Tell Someone They Have Bad Breath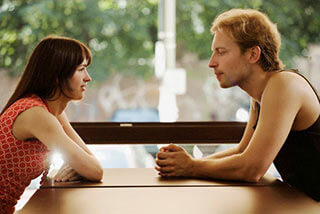 When to say it, how to say it, and where to say it.
We have all been there - you want to be close to a special person in your life, but they have something that keeps you at a distance: Bad breath! It can be difficult to associate regularly with someone who has chronic bad breath, and it may be even more difficult to tell them of this embarrassing problem of which they are seemingly unaware. It is important to be considerate of their feelings and treat them the way that you would like to be treated if you were in their situation. In this article we will go over what to do and what not to do when letting someone know that they have bad breath.
When you shouldn't tell someone their breath smells
Before we go into strategies on letting someone know they have bad breath, it is important to know when to not tell them their breath smells.
Do not tell someone they have bad breath...
If you are not close to this person
Many surveys have revealed that the overwhelming majority of people said they would want someone to tell them if they had bad breath, but they prefer to hear it from a friend, family member, or someone close to them rather than a co-worker or acquaintance. If you aren't close to this person, you probably do not have to suffer through their bad breath that often, so just deal with it. If it is a larger problem, get someone who is close to them to tell them that they have bad breath.

If their bad breath isn't chronic
We all suffer from temporary halitosis (bad breath) at certain points in our lives. It may be due to sicknesses, medications, a spicy meal, or the occasional bad morning breath after a late night. If someone is suffering temporary bad breath due to normal factors such as these, be understanding and at most offer them a mint or stick of gum. Only tell them that they have a problem if they constantly have bad breath.

In a public setting
Telling someone they have bad breath is an embarrassing and often uncomfortable situation. Telling someone they have bad breath in public where other people can hear greatly amplifies the discomfort of the person with bad breath. Limit the negative feelings by making sure you bring up the topic only in a private setting.

If they can't do anything about it
Tell someone they have bad breath only when they can actually DO something about it. If you are on a date, wait until the end to tell them, or wait until you are at a place where they can brush their teeth. If it is a co-worker, don't tell them at the beginning of the day; wait to tell them when they're nearly ready to leave for the day. Doing this helps them because they won't have to feel self-conscious the whole time they are with you.
Although in the above situations it is not a good idea to tell them they have bad breath, it is perfectly acceptable to help them out by offering them a mint or a piece of gum without telling them they have smelly breath.
Strategies for letting them know they have bad breath
There are several different ways of letting someone know they have bad breath. Determining which method is the best for you depends on your comfort level with the person, how close you are to them, and the time and place.
General rules:
The closer you are to the person, the more direct you should be.
The more regular the problem, the more direct you should be.
Being direct
It may be a good idea to try dropping hints before telling someone about their bad breath directly. If you have dropped many hints and they still have bad breath all the time it might be time to directly tell them. By being direct, it avoids any confusion that dropping hints may cause and it is the most effective way of helping them.
Gently let them know
There are different ways of being direct and it depends on the situation on which to use, but in any case you should avoid using colorful adjectives or similes to describe their breath. For example: don't say stuff like "your breath smells like vomit/sewer gas/rotten eggs', 'have you been eating rancid animal feces?', or 'your breath reeks/stinks'. Although you might think it is funny and they may laugh it off, it will hurt them more than if you had gently let them know their breath was bad. Here are some gentle ways of letting them know they have bad breath:
To start the conversation you can use one of these phrases:
"I noticed a problem and wasn't sure if you're aware..."
"Sorry to mention this, but..."
"If I had this problem I would want someone to tell me..."
"I'm sorry, but..."
Then you let them know with one of these phrases:
"You need to brush your teeth."
"You need a breath mint/stick of gum"
"Your breath smells a bit off."
"You have a problem with bad breath."
"You have bad breath."
After (or before) you let them know, it wouldn't be a bad idea to tack on a term of endearment such as: honey, dear, sweetie, etc.
Combine these phrases to create a sentence you believe would fit the situation best. A complete example could be something like this:
"Honey ... I noticed a problem and wasn't sure if you're aware ... your breath smells a bit off."
Be aware of your tone
You communicate not only through the words you say, but also through your body language and tonality. Don't have a dramatic, demeaning, or critical attitude when you tell them. Be compassionate, loving, and understanding to them.
Help them out
After you let them know of their bad breath problem it is important that you help them with it. Be completely honest while answering questions they may have. Offer them a mint, gum, floss, or to brush their teeth. If they are at your place buy them a toothbrush that they can keep there to use when they come over.
Another way to help them is to reveal to them that you used to have the same problem. Let them know that everyone has this problem at one time or another and then offer some solid remedies that have worked for you in the past. Tell them of specific products or techniques that have helped you. Tell them about this very website and point them specifically to our main articles on What Causes Bad Breath and more importantly How To Get Rid of Bad Breath.
Explain to them that they may have a dental issue, an infection or a health problem, and that they should make an appointment with a dentist.
Dropping hints
Dropping hints is an excellent way of letting them know that they have bad breath without actually telling them. Dropping hints works well when you are not close to the person, the person is only suffering from temporary halitosis, or when it isn't the time or place to tell them directly that they have bad breath. Some say there is no better way to "tell" someone something than getting them to think it for themselves. Dropping subtle hints works well, but we all know how hard it can be to think up hints that will get the person thinking about their breath without being too blunt. Dropping hints is usually less embarrassing for both parties, but the downside is that they may not get the hint. Here are some different ways to drop a hint that they have bad breath:
Pretend you have the problem
A good way to hint at something is to pretend that YOU'RE the one with the problem. If you're talking about yourself, you can't offend anyone else. Since you're obviously not the one with bad breath, the other person will wonder why you're talking about your own breath, and will then start thinking about their own breath.
Here are a couple of practical examples of things you could say to get someone thinking about their bad breath without offending them:
"What's that smell, is it my breath?"
"Hey, do I have bad breath today?"
"Is it just me or does my breath smell?"
Upon finding out that you DON'T have bad breath; the other person should start wondering why you asked a question like that, and arrive at the conclusion that it is their own breath that smells.
They may respond to one of the above questions with, "No. Do I?" or "No, does mine?" in which case you could offer to "take a smell" (pretending, of course) and then inform that that it actually does smell a "bit off."
Another way to pretend you have the problem is by talking about a product that has solved your bad breath. The following is an example of this:
"I just got these awesome breath mints. Have you tried these yet? A friend of mine told me that I have corpse breath - who knew?! Anyway, these things are amazing. I'm sharing them with everyone. Try one and see if it doesn't make your breath a thousand times better."
Offer them a mint/stick of gum
This is the easiest way of dropping a hint that they have bad breath, but also the least obvious. This method is great if you are not close to the person or if they are just suffering from temporary halitosis. In order to do this just causally offer them a mint or piece of gum. To be even more subtle, take one yourself before offering them one too. If the person declines and you really want them to get the hint, you can say something like, "You know... when a friend offers you a mint, you really should take it."
Practice oral hygiene in front of them
This is a great way of letting others know that you think fresh breath and proper oral hygiene is important to you without telling them directly that their breath smells. Here are various ways to do this:
If the person who has bad breath is a close friend or lover: After you eat a meal with them, once you get to their or your place, pull out some floss and say something like: "Would it weird you out if I flossed my teeth right now? I hate when I have the feeling that something is stuck in my teeth. Would you like some?" Then you can laugh at how silly the both of you look like flossing your teeth together. A good line to lighten the mood is to jokingly say "This is soooo romantic!" Once you have established that oral care is important to you, ask if you could leave a toothbrush at their place and offer to give them their own personal toothbrush to leave at your place. After meals you can brush your teeth together. It might be awkward at first but everyone enjoys fresh breath and they will appreciate it. Many girls I have done this with think it is cute that we floss and brush our teeth together and that she has her own toothbrush at my place.
If the person who has bad breath is a co-worker: Brush your teeth in the bathroom after lunch. When my co-workers saw me brushing my teeth in the bathroom they laughed at me at first in a joking manner, but the next week two of them were there brushing their teeth with me. If they are a member of the opposite sex then you can show them your oral care on-the-go kit and say something like - "I know I am weird, but I just can't stand not brushing my teeth after I eat", then go and brush your teeth.
Hopefully, showing your fanaticism for fresh breath will make them self-conscious of their own breath and encourage them to practice better oral care.
Getting help from another person
One way to let a person know that they have bad breath is by telling one of their close friends or relatives. Most of the time people are not as offended when someone close tells them about their bad breath. If you feel as though you are close enough to that person, then you could possibly be the one to break the bad breath news.
Recruit a child - Receiving bad news from an adorable child is not as painful as receiving the news from a peer. If possible, offer a cute child (younger the better) to tell the person that he or she has bad breath in exchange for a piece of candy. It's a win for you, and a win for the kid, and it might be easier for the person receiving the news.
Leave an anonymous note
This is a good tactic especially if you are not close to the person. You can leave a note in their locker, desk, book, or anywhere where they are sure to see it. Be careful that you put it in a place where others will not stumble upon it, as that can make a private matter public. Here are some example notes you can use:
"I noticed a problem that you might not be aware of. You have a problem with bad breath. This doesn't change the fact that I think you are awesome. It's just that if I had this problem, I would want someone to tell me."
You can also send an anonymous email to them by going to our page: Anonymously Tell Someone They Have Bad Breath.
If you like a particular method or have a good one you tell people then please tell us by commenting below. Thanks!