Foods & Drinks that Fight Bad Breath
The foods that are effective in promoting fresh breath by stopping bad breath
Most of us are aware of foods that cause bad breath, but what fewer people know is foods that can actually freshen your breath. In this article we will go over foods that help kill bacteria and that promotes fresh breath.
Water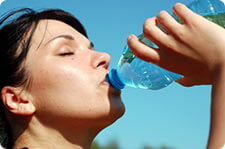 It is a good practice to stay properly hydrated throughout the day. This will help you stay healthy and also helps your breath. When you drink water it moistens your throat and mouth and also washes down bacteria and food particles that may be in your mouth. It is always a good practice to thoroughly rinse your mouth out with water after you eat or drink anything besides water. This will cleanse your mouth and do a good job of removing particles, that if not removed, would provide food for the odor causing bacteria. Try to avoid drinking soda, coffee, or any other drinks that contain sugar or sweeteners. These may help rid your mouth of food particles and hydrate you, but in turn they will leave sugar in your mouth that will quickly cause bad breath.
Herbs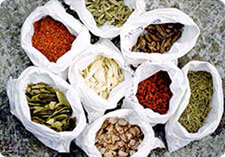 There are various herbs that are excellent for freshening breath. Not only do they have anti-bacterial properties, but a lot of them have a pleasant odor and taste. They also contain anti-oxidants which help protect the cells. Here is a list of various herbs that make your breath better. You may chew on these raw, suck on them, or steep them in hot water to make tea.
Green tea
Tarragon
Parsley
Spearmint
Peppermint
Coriander
Eucalyptus
Cardamom
Rosemary
Cinnamon
Crunchy Fiber Foods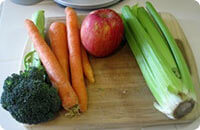 Foods that are high in fiber increase saliva production. Crunchy and fibrous foods like apples are also excellent at removing plaque and particles from your teeth and almost do as good of a job as brushing your teeth. Vegetables such as apples, carrots, and celery are good at fighting bad breath and they are also healthy for you. Walnuts are good as well as they contain omega-3 fatty acids which lower the amount of bacteria in the mouth.
Chewing Gum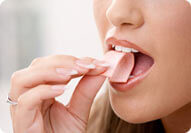 Chewing gum is effective in fighting bad breath but not as much as most people think. People chew gum and have a wonderful taste in there mouth so they assume that their breath is also fresh which isn't always the case. Chewing gum only temporarily masks bad breath and chewing gum that contains sugar is actually counter productive. Chewing sugar-free gum however does increase saliva production and that cleanses and moistens the mouth. Chewing gum is also helpful in removing food particles that are stuck on the teeth.
Foods high in Vitamin C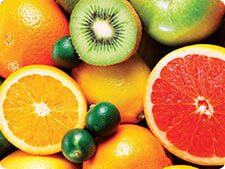 Vitamin C is effective in inhibiting the growth of odor causing bacteria. Citrus fruits are foods that are high in vitamin-c. Pure lemon juice is also a very effective anti-bacterial agent and also neutralizes odors from odor causing foods, such as garlic and onions. Avoid drinking juices or sodas that contain juices from citrus fruits that are loaded with sugar. Although they may still contain a lot of vitamin c, the sugar does more harm then the vitamin c does good. It is best to eat citrus fruits either raw or as pure juice.
Yogurt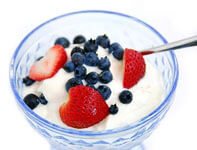 Yogurt has been proven to lower the amount of hydrogen sulfide in the mouth. Hydrogen sulfide is one of the waste products from the anaerobic bacteria in the mouth and this causes the odor of bad breath. For yogurt to be effective it is essential that you consume yogurt that does not contain sugar, and that it contains active cultures. Yogurt is made from milk which is converted into yogurt by these living organisms. Some yogurt manufacturers heat the yogurt afterwards to kill off the active cultures so you need to check the label to see if it contains live active cultures or if it contains probiotics. These probiotics and active cultures in yogurt are effective in fighting bad breath because these organisms create protein chains which inhibit the growth of the odor causing bacteria.
Oral Probiotics
Bad breath is often caused by an imbalance of bacteria in the oral cavity where bad bacteria produce VSCs. Some strains of probiotics produce bacteriocins or proteins that reduce these VSC producing bacteria. Probiotics reduce the amount of those odor causing bacteria by competing with them for nutrients, producing anti-microbial compounds and changing the pH or acidity levels in the mouth to more alkaline, creating a healthier environment in the mouth and inhibiting the growth of bacteria that cause plaque. Read our article on Oral Probiotics to learn more about them and which ones you should take.